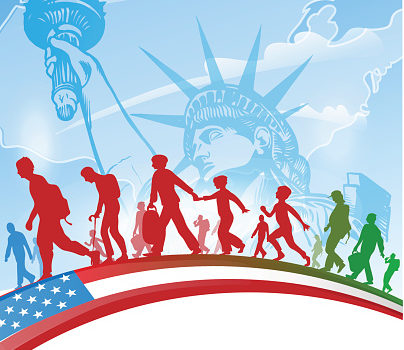 The Trump administration has sent mixed signals about the future of the DACA program, creating uncertainty among recipients and their families. In February, a leaked draft of an internal memo hinted that the Trump administration intends to cut the Deferred Action for Childhood Arrivals (DACA) program. As of March 2017, the Department of Homeland Security (DHS) was continuing to review DACA applications. Gillian Christensen, a spokeswoman for the agency, reaffirmed that "DACA recipients are not affected" by the recent DHS directives and that President Trump has pledged to "show great heart" to DACA recipients (Nakamura, 2017). However, the leaked memo states that DACA "unlawfully provide[s] illegal aliens with affirmative benefits such as lawful presence, work authorization, access to the Social Security Trust Fund, and access to the Earned Income Tax Credit." Further, the memo states that DACA violates the policy of the U.S. on three counts: 1) it fails to abide by the separation of powers as established in the Constitution; 2) it usurps the Congress's power to establish rules of naturalization; and 3) it violates the president's obligation to faithfully execute laws. If issued, this executive order would rescind the DACA order. For DACA beneficiaries with an Employment Authorization Document (EAD), the work permit would remain valid until the date of expiration but would not be extended.
Given such ambiguity, advocates like Gregory Chen, the director of advocacy of the American Immigration Lawyers Association, are cautioning "Dreamers" from enrolling in the DACA program. According to Chen, "the main risk is bringing attention to yourself" (Nakamura, 2017). On the other hand, according to Susan Church, the chair of the American Immigration Lawyers' Association New England chapter, "people already in the [DACA] system are not risking as much as those who are not in the system." Church recommends that undocumented students speak to a reputable immigration lawyer before making any decisions, given the fluidity of the situation. "It is a unique and a difficult time and my advice today could be different than tomorrow." Further, "any attempt to withdraw DACA would be challengeable in court."
Undocumented students are a vulnerable but important part of New England's future workforce, economy and community. In a letter initiated by Pomona College, 639 college presidents, including 72 in New England, have pledged their support for the DACA program and stand with our undocumented students – they are right to do so. The letter urges the country's leaders to uphold, continue and expand the DACA program, declaring DACA a "moral imperative" and a "national necessity" because America requires more talent to sustain its competitiveness. Research reveals that of the 11.5 million jobs added since 2010, only 80,000 were filled by those holding a high school diploma (Carnevale et al, 2014). Additionally, nearly 2 million jobs go unfilled due to skills mismatch and gaps in education. Given this analysis, educational opportunities should be expanded to as many students as possible. Further, the Trump administration's actions have the potential to be damaging to the region's communities and economy. New England, as a higher education hub, is inextricably tied to its international population. In an increasingly competitive global economy, providing access to higher education for all students and enabling them to become contributing members of the region's communities only serves to strengthen our workforce – one that in New England is indisputably challenged by population decline. By 2032, the number of high school graduates in New England is projected to decline by 14%. Undocumented students are already a part of our community and extending higher education opportunities to them benefits both the students and the region's economy.
DACA background
Following unsuccessful attempts in Congress to provide a legal pathway to citizenship for undocumented immigrants, including the DREAM Act of 2010, President Obama introduced an executive branch action. The Deferred Action for Childhood Arrivals (DACA) was enacted in June 2012. Today, the term "Dreamer," coming from the 2010 legislation, is often associated with DACA beneficiaries. DACA grants unauthorized immigrants who came to the U.S. before age 16 an opportunity to stay in the country to study or to work, if they meet certain criteria such as having lived in the U.S. for five years, obtained a high school diploma or general education development (GED) certificate, and not having a serious criminal record. Those who are approved receive a work permit and social security number and are eligible to obtain a driver's license. At the end of two years, DACA recipients can reapply to continue to legally remain in the U.S.
How many DACA beneficiaries are there?
From 2012 to 2016, the DACA program received a total of 910,752 first-time applications, also referred to as initial applications, and over that period, 752,154 applications were approved (Figure 1). In order to remain eligible, the DACA program requires beneficiaries to renew their work permits every two years. Since the program's implementation 78% of the total recipients have applied for DACA renewal.
Click on Figure 1 to see it in a larger version.
Where do DACA recipients reside in the U.S.?
Figure 2 shows the number of first time applicants who were approved for DACA authorization by region. California and Texas are home to approximately half of all DACA beneficiaries. This compares to a relatively small number of DACA beneficiaries living in New England. From 2012 to 2016, approximately 2% of total DACA beneficiaries resided in New England. The national distribution of DACA beneficiaries aligns closely with the estimated population distribution of undocumented immigrants in the U.S. According to the Pew Research Center, 20 metro areas are home to an estimated 6.8 million or 61% of undocumented immigrants in the U.S. Areas in and near New York, California, Texas, and Florida top the list with Boston-Cambridge-Newton, MA-NH ranking 12th with approximately 180,000 people (Passel & Cohn, 2017).
Click on Figure 2 to see it in a larger version.
Where do DACA recipients reside in New England?
Between 2012-16, over 13,000 New England residents have participated in the DACA program—approximately 12,000 of whom applied for renewal to continue living in the region legally. In New England, 8 of 10 young people who apply for DACA are approved. Figure 3 shows the breakdown of DACA beneficiaries by New England states. The "initial" DACA status denotes first-time applicants and "renewal" denotes those who applied for renewal after receiving two years of DACA benefits. Massachusetts is home to 54% of the region's DACA beneficiaries. Connecticut and Rhode Island follow with the next largest populations of DACA recipients in the region, respectively.
Click on Figure 3 to see it in a larger version.
Current aid guidelines
Undocumented students are ineligible for federal financial aid programs such as the Pell Grant, work study and government loans (Eusebio & Mendoza, 2015), which creates a large financial hurdle for many undocumented students and their families to overcome. States, however, do have the power to offer in-state tuition rates to undocumented students, as well as grants and loans. As of March 2017, 20 states offered in-state tuition to undocumented students. Six of those 20 states offer state financial aid. For instance, in California, undocumented students are eligible for state and institutional aid, which include grants, need-based scholarships, loans, and work-study. In New England, only Connecticut and Rhode Island offer in-state tuition and no state in the region offers financial aid to undocumented students.
Click on Figure 4 to see it in a larger version.
Recently proposed state legislation
In February 2017, Georgia's House of Representatives passed a bill with overwhelming support to withhold state funds and state-administered federal funds from higher education institutions that adopt a "sanctuary policy." Alabama House of Representatives passed a bill that would withhold funds from public colleges that fail to comply with federal or state immigration laws. The Alabama bill also mandates that colleges cooperate with federal or state authorities in enforcing immigration policies. A similar Texas bill calls for the state to impose a fine of $1,000 for the first offense and $25,000 for each subsequent violation against institutions of higher education that adopt policies discouraging the enforcement of immigration laws. Similar bills were introduced in North Carolina and Pennsylvania (Schmidt, 2017).
In Connecticut, legislation has been filed to equalize access to institutional financial aid. The bill proposed by the Assembly's Higher Education and Employment Advancement Committee allows any student eligible for in-state tuition, which includes undocumented students, to access institutional financial aid, whether enrolled full or part-time in a degree-granting program or enrolled in a precollege remedial program. Further, in Massachusetts, a bill has been introduced this session that would provide in-state tuition and eligibility for state-funded financial assistance to any person, other an a nonimmigrant alien (generally, tourists, students, business travelers and temporary workers who are lawfully admitted into the country), who has attended high school in the Commonwealth for 3 or more years and has graduated from high school or achieved the equivalent. The bill requires that any eligible person provide the state university or college in which they enroll with a social security number or an affidavit that the person has or will apply for citizenship or legal permanent residence within 120 of eligibility.
Recently proposed federal legislation
In light of the uncertain future of the DACA executive order, Senators Dick Durbin (D-IL) and Lindsey Graham (R-SC) introduced the Bar Removal of Individuals who Dream and Grow our Economy (BRIDGE) Act in December 2016. If passed, this bill would allow DACA beneficiaries who received deportation reprieves and work permits under the Obama administration to retain those benefits for three more years (Kim, 2016). Representatives Mike Coffman (R-CO) and Luis V. Gutierrez (D-IL) introduced companion legislation in the House of Representatives. This bill is also co-sponsored by both Republican and Democratic representatives. A number of higher education associations have come out in support of the BRIDGE Act.
Higher education's support for DACA students
Given undocumented students' ineligibility in accessing federal financial aid and, in most cases, state financial aid, TheDream.Us has emerged as the largest scholarship organization for Dreamers. TheDream.Us has partnered with more than 75 schools in 14 states and Washington, D.C. to ensure that students from "locked-out" states—states that deny in-state tuition and, in some cases, bar undocumented students from enrolling, have access to affordable higher education.
Identifying the gaps in access, Connecticut Gov. Dan Malloy (D) and Delaware Gov. Jack Markell (D) have joined forces with presidents from Eastern Connecticut State University and Delaware State University, respectively, to provide affordable, high-quality education to undocumented students who live in "locked-out" states. Malloy and Markell's intervention ensures that academically qualifying undocumented students have at least one open route to accessing affordable higher education (Coatney, 2016). Funding for these students comes from TheDream.Us. Since its inception, the organization has funded 1,700 scholars distributing $42.8 million in scholarships ("Our Impact," 2016).
College and university presidents across the U.S. have taken a similar approach. While higher education institutions are hesitant to use the term "sanctuary campus," presidents across multiple higher education sectors have reaffirmed their commitment to protecting all students. In a letter shared with campus communities, Connecticut State Colleges and Universities (CSCU) President Mark Ojakian reaffirmed the system's support for DACA and undocumented students in Connecticut. The letter reiterated CSCU's commitment to social justice, celebrating diversity, fostering a climate of inclusion and vowing to protect CSCU's most vulnerable students.
As noted above, Ojakian also signed a letter of support for the DACA program with 639 college and university presidents across the U.S. One of the signatories of this letter is current president of the University of California and former secretary of Homeland Security, Janet Napolitano. President Obama's DACA order was signed under Napolitano's tenure at the Department of Homeland Security. Her message to Trump: "Why waste resources trying to deport good students who've done everything right?"
Throughout New England, we should be echoing Napolitano's sentiment to the undocumented, immigrant and international students pursuing higher education, as well as to President Trump.
Please also see "'Dreamers' Are at the Heart of the American Dream", by Elsa Núñez, president of Eastern Connecticut State University.
---
Works Cited
Carnevale, A., et al. (2014) Recovery: Job Growth and Education Requirements Through 2020. Georgetown Center for Education and the Workforce.
Coatney, C. (2016). Two States Open University Gates to Locked-Out Undocumented Students. Higher Ed Not Debt.
Eusebio, C., & Mendoza, F. (2015). The Case for Undocumented Students in Higher Education. Educators for Fair Consideration.
Hultin, S. (2015). Undocumented Student Tuition: Overview. National Conference of State Legislatures. Retrieved from www.ncsl.org/research/education/undocumented-student-tuition-overview.
Kim, S. M. (2016). Senators unveil bipartisan bill to protect Dreamers. Politico.
Nakamura, D. (2017). Advocates warn 'dreamers' to lie low as Trump steps up deportations. The Boston Globe.
Number of I-821D, Consideration of Deferred Action for Childhood Arrivals by Fiscal Year, Quarter, Intake, Biometrics and Case Status. (2016). Department of Homeland Security.
Our Impact (2016). TheDream.Us.
Passel, J. S. & Cohn, D. (2017). 20 Metro Areas are Home to Six-in-Ten Unauthorized Immigrants in U.S. Pew Research Center.
Schmidt, P. (2017). Republican State Lawmakers Seek to Ban 'Sanctuary' Campuses. The Chronicle of Higher Education.