Check Back in for Updates Coming Soon!
Twitter Feed
Interested in how #NewEngland #colleges & #universities adjusted their #tuition & #fees during the 2019-20 academic year? Read our latest report to see the financial precedent that public institutions set before #COVID19 https://bit.ly/2FJuzc6 #highered #edu
Twitter feed video.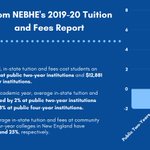 Private 4-year institutions stand to benefit from enrolling more #communitycollege #transferstudents by providing clear, transparent credit transfer policies. Read about NEBHE's Transfer Guarantee in the American Talent Initiative's new blog post: http://bit.ly/privatetransfersuccess
What if we made voting fun for students? The @VoteHawk Voting Phrenzy Challenge does just that! @uiowa Students win prizes for helping others learn how to vote.

See more details and ideas on how campuses can encourage #studentvoting at http://bit.ly/StudentVoting2020

#votingmatters
Twitter feed video.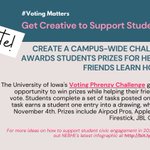 Load More...
Share This Page